Bioinformatics Minor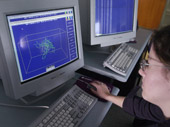 The proposed minor includes a solid foundation in all aspects of bioinformatics, including familiarity with research issues, tools and techniques. The proposed minor is intended for:
Students seeking to work in biological science centered careers that require an understanding of how bioinformatics and computational biology inform and support experimental research.
Students with undergraduate majors in either biological science or computational science who are planning to enter the field of bioinformatics as technicians or go on to graduate school and would like to demonstrate capability in the skill sets needed.
Contact Information
Diane St. Germain
School of Systems Biology
dstgerma@gmu.edu
(703) 993-4263
---